8 February, 2023
Newsletter January 2023
Seek and ye shall find!
Europe's largest deposit of rare earths to date has just been found in Sweden. Now Norwegian researchers have discovered new treasures - under the seabed: rare earths, copper and cobalt. Up to 38 million tonnes of copper, 45 million tonnes of zinc and 1.7 million tonnes of cerium (important for aluminium processing) are said to be stored in the seabed off the Norwegian coast.
Even if the environmentally friendly and sustainable extraction of resources from the seabed is highly controversial, these discoveries in Sweden and Norway show one thing: Europe has diverse, very valuable mineral resources. And I don't mean the mineral resources of the "old world", i.e. lignite and hard coal. No, I mean the raw materials of the future. But: The mining industry in Europe has lost influence. While at the beginning of the last century Europe was still responsible for almost 40 per cent of global mining production, this share is now only about 3 per cent. This must change if we in Europe do not want to become losers of the modern age! In future, lithium, copper, rare earth elements, nickel and cobalt should come from Finland, Sweden, Spain, Poland, Czech Republic, Austria or Germany - and not from Chile, China or Congo.
Let's all go for the treasures in Europe. Let's seek, explore and operate the "mines for future"! Because some mines of the past and even the present are a constant source of shame. The Daily Mail did a harrowing story on conditions at the Shabara mine in the Democratic Republic of Congo. Children dig for cobalt there for a pittance of two U.S. dollars a day. 10 kilograms of this mineral is needed for the battery of an electric car. Anyone who looks at these photos will understand how important it is that we need responsible mining according to Western standards.
Word!
It is not as if the need for rethinking has not been recognised in Brussels. But the subordinate authorities are blocking: State and regional governments, regional parliaments and municipalities. "The economy of the future will no longer rely on oil and coal, but on lithium for batteries, on silicon metal for chips, on rare-earth permanent magnets for electric vehicles and wind turbines. And it is sure: the green and digital transformation will massively increase our need for these materials," Commission President Ursula von der Leyen a few weeks ago said in a statement. She is right. This exactly could have been said by the author of these lines. Translating this insight into operational policy is the responsibility of each individual who holds administrative power in Europe.
Raw materials supply of the future: On the road in Brussels
Mark your calendars! The European Commission is gearing up to unveil the highly anticipated Critical Raw Materials Act on March 8th. This legislation is designed to secure a steady flow of essential minerals by promoting local mining ventures within Europe. The EU is facing a pressing shortage of young mining companies, and I recently had the opportunity to delve into this issue during my travels to Brussels. I held engaging conversations with some MEPs such as Hildegard Bentele and sat down with Peter Handley, Head of the Commission's Raw Materials Department, to gain a deeper understanding of the situation. I was able to explain to policy makers the many challenges facing the mining industry in Europe right now. Long approval processes and lack of public acceptance make it difficult to carry out our projects, which I share also with Rolf Kuby, Director General of the European Mining Association Euromines. Some of my dialogue partners have shown a strong interest in the collaboration between Eurobattery Minerals and Uppsala University, making for a highly captivating project. The partnership aims to investigate the opportunity for large-scale extraction of rare earth elements using existing methods, which of course are very sophisticated. Anchoring the necessity of modern mining in the minds of political decision-makers is no walk in the park. Nevertheless, the issue is slowly but surely climbing to the top of the Brussels agenda.
What opportunities lie ahead for us as a company in the mining industry? The Raw Materials Act is set to launch strategic projects that will provide the necessary minerals for new technologies and mobility. This is an opportunity for our industry to take a leap forward and lead the charge in shaping the future of technology and mobility. For this objective, the approval procedures need to be streamlined and accelerated. In this regard, it is important that all actors adhere to established procedures and that state governments speed up their decision-making processes.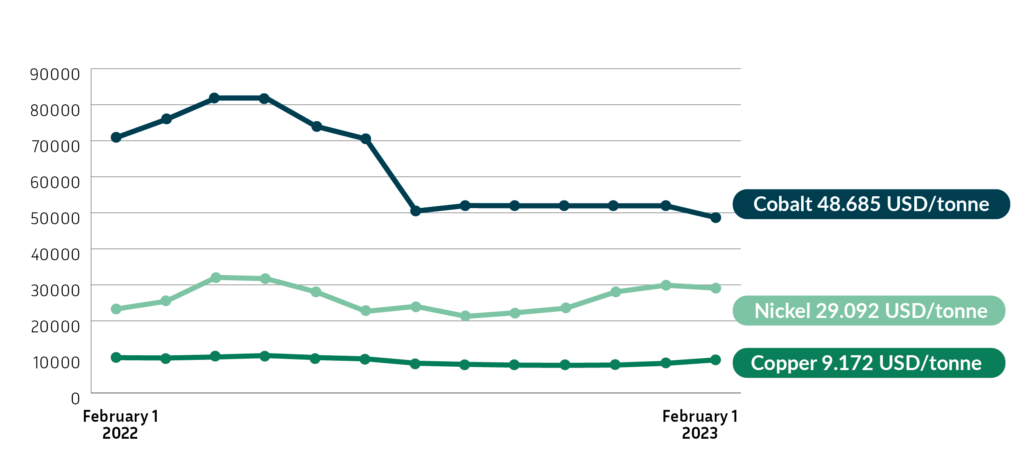 In addition, financial support will be made accessible. Commission President von der Leyen announced an 'EU Sovereignty Fund' to be made available this summer. Last week, European Commissioner Thierry Breton called on European financiers to increase funding for mineral-rich countries. The energy transition's success depends on support from banks, Thierry emphasized at a meeting with European banks, including Société Générale, Deutsche Bank and Santander Group.
Eurobattery Minerals making headlines!
Various media have picked up coverage of Eurobattery Minerals. "From Europe for Europe", for example, is the headline of wallstreet online. Eurobattery even made it to t-online, which is the most influential and widespread online platform in Germany. A recommended read for all German-speaking followers.
Sincerely yours,
Roberto García Martínez, CEO
Continue reading about us